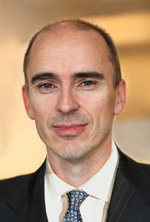 Ivy Exec recently interviewed Lee Sach, Founding Partner of Mosaic Financial Markets.
Mosaic is a new kind of consulting firm that offers a compelling alternative to the traditional consulting model by deploying a global network of consultants enabling financial services clients to access a deeper pool of professional knowledge — individual specialists, project teams and full consulting solutions.
Ivy Exec: In which area of your company do you expect the most growth over the next 12 months?
Lee Sach: We are an established provider of consulting services at major financial markets firms where we are focused on high profile, "change the bank" type projects. We see further strong demand for business focused project consultants who are able to help clients adapt their operations and technology systems to meet the rapidly changing regulatory and increasingly competitive business environment.
IE: What changes and challenges do you think your company and industry will see in the next 5 years?
Lee: The volatile economic environment, both domestically and internationally, makes it difficult for traditional, high-priced management consulting firms to add value to clients that are under significant, internal cost-pressures. At the same time, there's rising demand for industry-focused consultants who can rapidly, and with minimal fuss, help clients deliver ever more complex projects. We also see a continuing trend among consultants who want more control over their careers, the ability to work more independently, and the flexibility to choose their own assignments and working locations.
We designed Mosaic around an innovative operating model to provide clients with the highly skilled industry consulting expertise they need, but at a fraction of traditional consulting firm rates. We accomplish this by leveraging a global network of hand-picked, industry consultants with proven accomplishments in their specialist areas. This allows us to avoid costly overheads and provide our consultants with challenging client work. However, we are not immune from market swings in demand, which have been unprecedented in the last few years.
IE:  What led you to found Mosaic Capital Markets?
Lee: Mosaic's co-founders and I have 20+ year career records with a mix of financial markets industry and management consulting experience.  We decided to apply our combined expertise to start a business that provides financial markets clients with a compelling alternative to the traditional consulting model. We are focused on providing strong industry expertise-based services by utilizing proven, professional practitioners. We're still in our early days, but we've enjoyed considerable success in our short, 4-year history and look forward to building an enterprise that makes a difference to both our clients and our consultants.
IE: What three words best describe your culture?
Lee: Proven expertise, Client-focused and Entrepreneurial.
IE: What are the two best perks that employees get at your company?
Lee: Our consultants have the flexibility to work on engagements that they are interested in and can add value based on their project skills and/or subject matter expertise. We provide our consultants with opportunities and support, but we don't tie them down to a particular assignment if it's not a good fit. Freedom of choice is a huge perk here.
We are a flat organization, so our employees and consultants get the benefit of contributing directly to our growth. There are no politics or corporate ladders to climb; good ideas translate into tangible results and are rewarded accordingly. Plus, the lifestyle here is attractive. Most of our work is done in New York and in major metropolitan areas, so travel is less of an issue compared to some other places.
IE: What gets you excited about going to work each day?
Lee: Creating a different kind of enterprise, one focused upon working with experts who really understand the industry and want to add value to our clients.  Since we are in a growth phase, we are always looking for smart, entrepreneurial people to join us.
IE: Which leadership qualities best insure success at Mosaic?
Lee: In order to be successful at Mosaic, you need to be able to provide excellent client work and be able to work independently but collaboratively with other consultants and clients. You have the freedom to choose your assignments, but you also assume accountability for your decisions. At the end of the day, it's all about adding value to the client. Some ideas will succeed, others will fail, but you have to be a true independent thinker to make an impact.  Of course, our management team is there to provide guidance along the way.
IE: What is the biggest misconception that you encounter about the consulting industry?
Lee: Many consultants believe that it's just the Big 4 firms that allow for significant career growth and a consistent pipeline of intellectually challenging work. While the Big 4 provide an excellent training ground for aspiring consultants, if you were to ask our consultants they would agree that the financial, professional and lifestyle rewards of working with a smaller firm such as ours are enormous.
Stay up to date with consulting job opportunities with companies like Mosaic! Apply for membership with Ivy Exec. To find consulting jobs, visit Ivy Exec's selection here.