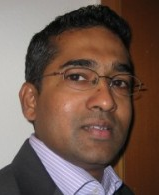 Mentor Spotlight:  Gayle Rigione, Ivy Exec's Chief Content Editor and Mentorship Program Manager, recently interviewed Pramukh Jeyathilak, Global HR Lead with Amazon in Seattle, Washington.  Ivy Exec launched the Ivy Exec Mentor Network  in May of this year and Pramukh has been a sought after mentor since the program debut. As an active mentor for the program, Pramukh has helped numerous protégés negotiate difficult career terrain with greater certainty…
– – – – – – – – – – – – – –
Gayle Rigione: What attracted you to join the Ivy Exec Mentor Network?
Pramukh Jeyathilak: I saw that the Ivy Exec Mentor Network  attracted industry leaders to serve as mentors for aspiring professionals who needed guidance, and the whole concept got my attention. I strongly believe in the concept of "learning from others" since this is the philosophy upon which successful mentoring relationships are based.  Ivy Exec's Mentor Network supports this.
Gayle Rigione: What is your mentoring philosophy? 
Pramukh Jeyathilak:  My mentoring philosophy is that "you get as much as you give".  This works both for the mentor and the protégé.  This philosophy has helped me build and maintain strong mentoring relationships.
Gayle Rigione: What do you enjoy most about mentoring? 
Pramukh Jeyathilak: I really enjoy the opportunity to help another person think through an issue in a different manner and through a different perspective.  I am fascinated that there could be so many options to address an issue that could lead to equally good solutions. Most of the time, we self-impose limitations on the "what and how" of our thinking and problem solving, but a good mentoring relationship helps remove these limitations.
Gayle Rigione: What is most challenging about mentoring?
Pramukh Jeyathilak: A mentoring relationship is most challenging when the protégé does not own the agenda and does not take responsibility for the relationship.  It can also be challenging when protégé has a whole host of issues to solve and is unable to prioritize the order of importance in his/her mind and vacillates between the issues.
Gayle Rigione: What do you consider when deciding whether or not to mentor a person?
Pramukh Jeyathilak: If a protege has a clearly defined goal (it does not need to be specific and it can be somewhat broad at the beginning) then it helps the mentoring relationship.  I always feel good when a protégé selects me for the background, skills and experience I bring, rather than selecting a protégé myself.
 Gayle Rigione: When you meet, what are your expectations of your protégés?
Pramukh Jeyathilak:  My expectations are that the protégé owns the agenda and takes responsibility for the relationship.  I also like the protégé to be open to another person's point of view, challenge it respectfully, and to be able to take the shared concepts and ideas and make them practical and real with my help.
Gayle Rigione: Where do you find inspiration in your own career? 
Pramukh Jeyathilak:  By working with and surrounding myself with people I consider successful through their own merits and capabilities, and also being in a role where I can make a professional difference in the area of Human Resources Management.
Gayle Rigione: What impact has mentoring had on your career? 
Pramukh Jeyathilak: Mentoring has helped me broaden my horizons, be open to ideas and solutions that I would not normally have been receptive to, and has made me more aware of my strengths and opportunities for personal development.
Facing career hurdles? Get one-on-one guidance from seasoned executives with the The Ivy Exec Mentor Network.

The Ivy Exec Mentor Network is a powerful, community based mentoring program designed to provide career guidance to aspiring professionals who find themselves at a career crossroads. Mentors are Ivy Exec members with 15 to 20+ years of experience who volunteer their time and expertise to help other Ivy Exec members resolve serious career challenges. This unique program is global in scope and promotes broad based networking — across national borders, industries and generations — between members of Ivy Exec's exclusive professional community. Ivy Exec – intelligence at work… Want to know more about Ivy Exec? Check out our CrunchBase profile or interact with us on Facebook.